Soviet military bases in Latvia

IV Soviet occupation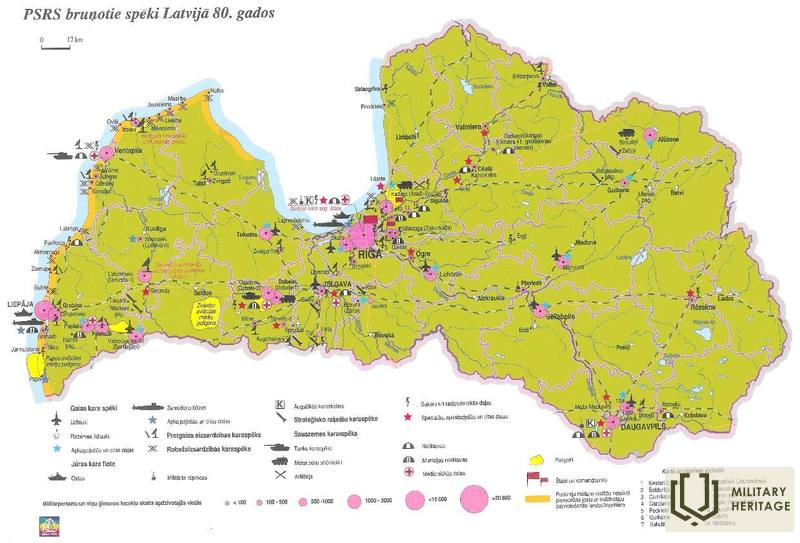 A total of around 400 Soviet troops were stationed in Latvia, in about 500 facilities, making for a total of more than 50,000 military personnel.
More information sources
Book "Latvia - under Soviet rule"
The Latvian Occupation Research Society (LOIB) has published a joint work of three authors - Latvia under Soviet Military, 1939-1999.
The book tells how the occupation of Latvia took place, how Soviet army units were deployed in the territory of Latvia, how Soviet military bases flooded Latvia, and what damage the occupation caused to the Latvian economy and ecology.
The authors explain the legal aspects of the occupation and how the damage caused to Latvia during the Soviet occupation can be calculated. The edition is supplemented with a map of Latvia, which marks the locations of the largest Soviet military bases in the territory of Latvia.
Book "Latvian-USSR military base. 1938-1998: materials and documents on the location of the Soviet army in Latvia and its withdrawal"
The book contains materials and documents on the location and location of the USSR army and armaments in Latvia from 1939 to 1998, when the last military facility of the Russian Federation in the Republic of Latvia, the Skrunda radar station "Dnieper", ceased operations. The authors were closely involved in the process of withdrawing the Soviet army and can therefore provide first-hand information. For example, Ilgonis Upmalis was the head of the Armed Forces Export Control Bureau under the jurisdiction of the Russian Federation, a deputy of the Supreme Council of the Republic of Latvia and Minister of State J. Dinevičs headed the Latvian delegation for interstate talks. Giving an insight into the arrival of the Soviet army in Latvia and its stay here, the authors focus in more detail on the process of exiting the Russian army, the heir to the former USSR army. The book contains many documents and their facsimiles, photographs, extensive illustrative material, as well as an index of persons.
Related timeline
Related objects
Related stories