About General Karl Gopper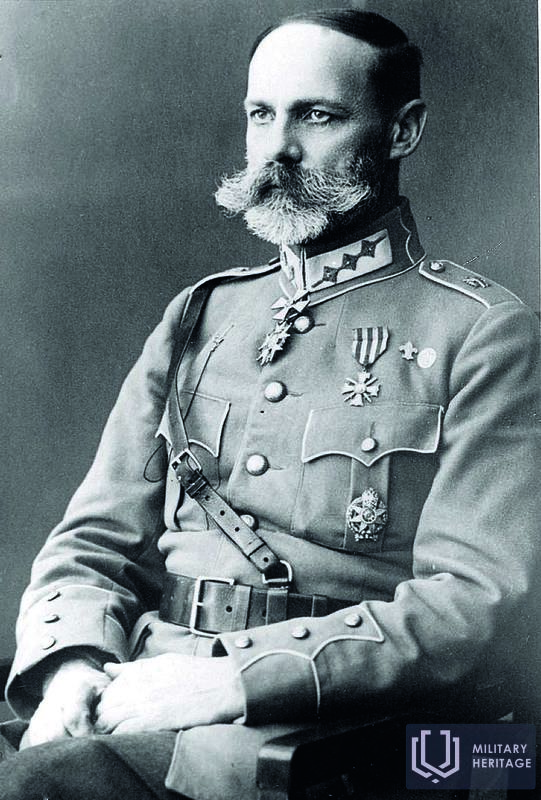 General K. Goppers (1876-1941) was an outstanding soldier and an outstanding man. He stood out as a successful commander who took over the command of the battalion and regiments, heroically leading his riflemen in battles for the freedom of Latvia during the First World War (1914-1919). He has participated in battles in Tīreļpurvs, Ložmetējkalns, and defended Riga.
Born on April 2, 1876 in "Muscat" of Plāņi Parish.
Studied at Trikāta parish school. After completing it, he prepared for the wildlife exam, which he passed, and continues his studies in the Pskov Cadet Corps.
In 1893 he started serving in the tsar's army. Repeatedly wounded and exalted during World War I. In August 1916, after the injury was healed at his request, he was appointed as a lieutenant colonel as the commander of the Latvian Rifle Reserve Battalion, in December - as the commander of the 7th Bauska Latvian Rifle Regiment. Commander of the 1st Latvian Rifle Brigade since 1917. From 1917 to June 1920, Russia went through all of Russia to fight the Bolsheviks. In August 1920, he was promoted to general from August 13, 1917, due to the delay in approving the promotion due to the October Revolution. After returning to his homeland, he was the head of the Latvian Scout Central Organization, the chairman of the Ministry of Defense and the Military Council, the head of the Old Latvian Riflemen's Association, and a member of the Colonel Deer Foundation. During his lifetime, he was awarded many Latvian, Russian and foreign military orders
On September 30, 1940, K. Gopper was arrested in Riga. On March 25, 1941, he was executed in Riga Central Prison and buried in a mass grave in Ulbroka Forest. In May 1944, K. Gopper was reburied in the Riga Brothers Cemetery, and on May 7, 1944, his heart was buried in the Trikāta Cemetery.
On February 11, 1992, Kārlis Goppers was rehabilitated in accordance with the Law of the Republic of Latvia of August 3, 1990 "On Illegally Repressed Rehabilitation".

Awarded the 3rd class Lāčplēsis War Order for the fact that in 1916. on the night of December 23, in the attacking column of the 2nd Latvian Rifle Brigade, was the first to break the line of German fortifications with his regiment, broke into fierce backs in the fierce behind the opponent, where he also took command of the 8th Valmiera Latvian Rifle Regiment and lasted 2 days until the arrival of additional forces. On the night of December, then led his troops in the direction of Kalnciems, caused panic in the German ranks at Ložmetējkalns, greatly promoting its capture and trophy, which were so necessary for the riflemen to replenish the poor arsenal.
He was awarded the 2nd class Lāčplēsis War Order for the fact that in 1917. On August 21, in the Jugla positions, when the 1st Latvian Rifle Brigade alone had to withstand extremely fierce attacks without artillery support, it struck several frontal blows, maneuvering cautiously with reserves and, changing positions from the Little Jugla to the Big Jugla, prevented the siege and facilitated our endurance until to receive a departure order.
Gen. Karl Gopper's service ranks :
1893 - joins as a 2nd class savage (high school graduate) enlisted in the military service of the Kaunas Fortress Infantry Battalion.
1894 - Vilnius Infantry Junker School. Podporuchik (first rank of officer).
1896 - begins service in the 97th Infantry Regiment of Vidzeme in Daugavpils, in the 190th Infantry Regiment deployed in Warsaw (in parallel with the service he studied philosophy and natural sciences).
In 1900 - promoted to Poruchik (the newest rank of officers).
In 1904 - promoted to staff captain (senior rank of officers).
In 1905, he served in the 183rd Regiment in Pultuska and Kostroma.
In 1908, he was promoted to captain (in the army of the Russian Empire in the hierarchical rank between the captain of the staff and the lieutenant colonel).
1912 - Appointed Commander of the Company.
1914 - Fights on the Western Front in Galicia, Austro-Hungary (modern-day Ukraine), appointed battalion commander.
From 1914 to 1916, he was injured three times. After the third injury, he was evacuated to a hospital in Moscow.
In 1915 - promoted to lieutenant colonel.
1916 - promoted to colonel and appointed commander of the Latvian Rifle Reserve Battalion sent to Valmiermuiža, at the end of the year appointed commander of the 7th Bauska Latvian Rifle Battalion.
1917 - appointed commander of the 1st Latvian Rifle Brigade, and for the merits of the battle for the defense of Riga on 19-21. In August, Radko Dmitrijev recommends promotion to Major General. Confirms!
The Russian Civil War is over as a colonel!

During his military career, K. Goppers received the 2nd and 3rd class Latvian Lāčplēsis War Order, 2nd and 3rd class Three Star Order, the White Lily Scout Order, as well as several high-ranking Russian, French, Swedish, Finnish, Lithuanian, Serbian and Czechoslovak awards.
Awards and badges of honor :
Russian St. Class III of the Stanislav Order
Russian St. Class III of the Order of Anna
Russian St. Jura sword
Russian St. Class II of the Stanislav Order
Russian St. Class II of the Order of Anna
Russian St. Order IV of the Order of Jurassic
Russian St. IV class of the Order of Vladimir
Russian St. Order III of the Order of Vladimir
Russian St. III class of the Order of Jurassic
Class III of the Serbian Star of Kajordevich
III class of Lāčplēsis War Order
Cross of the Commander of the French Legion of Honor
Czechoslovak War Cross
Memorial to the Latvian War of Liberation
Order of the Commander of the Finnish White Rose Class I
II class of Lāčplēsis War Order
Class III of the Order of the Three Stars
Cross of the Commander of the Swedish Spear Order, 1st Class
Medal commemorating the 10th anniversary of Lithuania's independence
Class II of the Order of the Three Stars
Medal commemorating the 10th anniversary of the liberation struggle of the Republic of Latvia
2nd class of the Lithuanian Gediminas Order
Bronze medal of the Latvian Defense Society
Order of the Latvian Wolf Scout Gray Wolf
Order of the White Lily of the Latvian Scouts
Latvian Scouts' Thank You Sign "Swastika"
Latvian Scouts "Forest Sign"
Books, publications :
"Four Collapses", 1920
"Basics of Military Education", 1922
'' Godfather Oscar '', 1923
'' Be vigilant '', 1924
"Christmas of the Latvian Rifle Regiment" 1916, 1924
Between two revolutions
Memories of "Riflemen's Times" in 1931.

1924-1925 and 1934-1940. year - editor of the magazine "Latvian Riflemen".
After the Second World War, Latvian scouts in exile established refugee camps in the refugee camps in Germany on April 20, 1947 in Ansbach.
Wrote down this story: Ilze Dauvarte
Used sources and references:
https://www.historia.lv/personas/goppers-karlis
http://skauti.lv/par-mums/vesture/karlis-goppers/
http://www.karamuzejs.lv/lv/Izstades/generali/generalis_GoppersKarlis.aspx
https://www.facebook.com/media/set/?set=a.616149468468565.1073741850.568253149924864&type=3
https://enciklopedija.lv/skirklis/101930-K%C4%81rlis-Goppers
"General Goppers in the Memories of War and Contemporaries" publishing house Zelta Abele 1951. Sweden
Related timeline
Related topics
Related objects
Atrodas Plāņu pagastā uz Vijas upes krasta.

Apskatāma ģenerāļa Kārļa Goppera piemiņas istaba dzimtajās mājās "Maskati".
"Maskatu" saimniecību vadīja ģenerāļa brālis Augusts Goppers, jo talantīgais kara vadonis bija aizņemts lielajos notikumos un pasaules karos. 1920. gadā ģenerālis atgriezās Latvijā, savās dzimtajās mājās. Bet daudzi atbildīgie pienākumi viņu saistīja ar Rīgu. "Maskatos" turpināja saimniekot Augusts. 1940. gadā ģenerāli Gopperu arestēja un 1941. gada 25. martā nošāva čekas pagrabos. 1944. gadā Gopperu dzimta ar trijiem zirgu pajūgiem devās bēgļu gaitās uz Kurzemi. Karš dzimtu sadalīja, Latvijā palika Aleksandra Goppera meitas – Biruta, Elza un Anna. "Maskatos" atgriezties viņas vairs nedrīkstēja. Mājas bija lielas un rūpīgi koptas. Tur pa atsevišķām istabām tika izmitinātas trīs četras ienācēju ģimenes. Lielajā kūtī iekārtoja zirgu fermu. Savstarpēju kašķu dēļ 1980. gadā izcēlās ugunsgrēks. Nodega kūts un lielais šķūnis. Laimīgā kārtā uguns nepārsviedās uz dzīvojamo māju, liesmas atvairīja senču stādītie lielie koki.
1991. gadā pēc brīnumainās Atmodas otrreiz atdzima Latvijas valsts. 1992. gadā ģenerāļa Goppera brāļa Augusta dzimta atguva "Maskatus" kā senču svētumu. Desmit gadus visi sūri, grūti strādāja, lai glābtu mājas no bojāejas, lai atjaunotu un uzceltu nopostītās ēkas, lai darītu skaistu visu "Maskatu" sētu. Mājas ir atjaunotas senajā izskatā, ir iekārtota arī ģenerāļa Kārļa Goppera piemiņas istaba.Piemiņas istabu iespējams apmeklēt iepriekš zvanot un piesakot apmeklējumu +371 29396870, +371 29254285.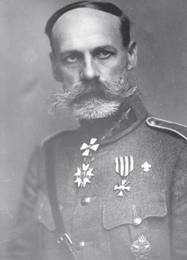 Piemiņas stēla atrodas līdzās Trikātas kapu kapličai.
Trikātas kapi glabā trīs izcilu Latvijas ģenerāļu - Roberts Dambītis, Kārlis Goppers un Jānis Balodis, piemiņu. Trikātas kapos apglabāts arī visu šo ģenerāļu skolotājs Jēkabs Mūrnieks, kuram 1928. gadā uzstāda apbedījuma vietā pēc Kārļa Zāles meta šūnakmenī veidotu pieminekli.
Ģenerāļus un Lāčplēša Kara ordeņa kavalierus katru gadu piemin ar lāpu gājieniem uz Trikātas kapiem, kur atrodas divas piemiņas stēlas, kurās kopumā iekalti 17 ar Trikātas pagastu saistīto Lāčplēša Kara ordeņa kavalieru vārdi.
Stēla atklāta 2018. gada 11. novembrī.

Video sižets par Lāčplēša kara ordeni un ordeņu komplektu, kas piederēja ģenerālim Jānim Balodim.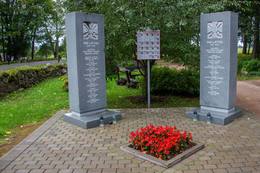 Riga Brothers' Cemetery is located in the northern district of Riga. The cemetery extends over an area of 9 ha and is the most outstanding and significant memorial ensemble in Latvia dedicated to the fallen Latvian soldiers. About 3,000 soldiers are buried here. The Brothers' Cemetery was created during World War I after the first three Latvian Riflemen, who fell in Tīreļpurvs in the battle against the German Army, were buried here. Later Latvian soldiers who had died in other battles and wars would also be buried in the Brothers' Cemetery. The memorial is based on the design of the sculptor Kārlis Zāle, and is the first memorial ensemble in Europe with such landscape, architecture and sculptural value. It uses elements typical to the Latvian landscape, traditional farmsteads, Latvian folklore and history that praise the characteristics of soldiers and tell the story of the way of the soldier. The memorial was unveiled in 1936 and it has three parts: 'The Road of Though' which is a 250 m long alley, 'Terrace of Heroes' with the Altar of the Sacred Flame and ensemble the Sacred Oak Grove, and the burial ground with the Latvian wall and a memorial of a mother with her fallen sons.