Kārlis Ulmanis
First Independance, II WW2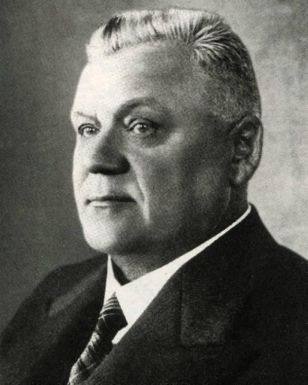 President and Prime Minister of Latvia (1936-1940). On 15 May 1934, Kārlis Ulmanis organises a coup d'état, which ushers in a period of authoritarian rule in Latvia.
He did not endure long hesitations, was an exceptionally gifted politician, characterised by an iron will, enormous energy, organising and organising skills, fanatical love of work, modesty in personal life, deep and sincere patriotism. His main slogans were: "Unity, leadership, Latvianness".
Kārlis Ulmanis was born on 4 September 1877 in the house of Pikši parish, Dobele district, Udzes municipality. He studied at Bērmuiža Primary School, Jelgava City Alexander School, Jelgava Real School. In 1896 he left the Jelgava Real School and went to East Prussia to study dairy farming at the Dairy School in Tapiava (tag. Guardejska). In 1897 he works as a dairy manager in Riga, Krāsotāju iela. In 1902, together with J. Bergs, he runs a dairy course in Bērmuiža. From 1902-1903 he studies at the Swiss Federal Polytechnic in Zurich. From 1903-1905 he studied agriculture at the Leipzig University Institute of Agriculture, at the same time running several dairy courses in Latvia.
On 21 December 1905 he was arrested for his participation in the 1905 Revolution and sent to Pskov prison. In 1906 he was released from prison and in the spring of 1907 he emigrated to New York (USA). He studied agriculture at several US college-type institutions, became a manager of a farm business and a lecturer at the University of Nebraska.
On 17 November 1918 he is elected Prime Minister of the People's Council of Latvia. On 18 November the People's Council entrusts Ulmanis with the formation of the Cabinet of Ministers. From 18 November to 19 December - Minister of Agriculture. From 19 November 1918 to 13 July 1919 - Prime Minister. In order to safeguard Latvia's statehood, assistance is requested from the governments of Denmark, Sweden and Estonia. From 14 July to 4 September 1919 - Minister of Agriculture, from 14 July to 8 December 1919 - Prime Minister.
In September 1919, a failed assassination attempt was made against K. Ulmanis. From 16 October 1919 to 11 June 1920 - Minister of War, from 9 December 1919 to 11 June 1920 - Prime Minister and Minister of Defence. From 12 June 1920 to 18 June 1921, Kārlis Ulmanis is Prime Minister. 27 April 1921 - Third attack against Kārlis Ulmanis.
On 18 June 1922, the Cultural Foundation is established at the initiative of K. Ulmanis. On 28 February 1925 he was awarded the Order of the Three Stars of the First Class. From 24 September 1925 to 6 May 1926 - Prime Minister. From 7 May to 18 December 1926 - Minister for Foreign Affairs. From 27 March to 5 December 1931, and from 17 March to 15 May 1934, Prime Minister and Minister for Foreign Affairs. From 18 May 1934 to 20 June 1940, Prime Minister.
On 15 May 1934, Ulmanis organises a coup d'état. On 11 April 1936, Prime Minister Kārlis Ulmanis takes over the office of President of the Republic on the basis of the Law of 12 March 1936 on the Execution of the Office of President of the Republic.
In 1937, the Fatherland Prize is established. On 11 August 1938, he was awarded the Order of the Three Stars of the highest class.
Prime Minister K.Ulmanis performed the duties of the President of Latvia until the occupation of the Republic of Latvia on 17 June 1940. On 22 July 1940 he is deported to the USSR. From 29 July 1940 to May 1941 he is imprisoned in Voroshilovsk in a specially prepared mansion. On 4 July 1941, for counter-revolutionary activities against the international communist movement, Ulmanis is arrested by the Soviet authorities and placed in the internal prison of the State Security Administration in the Ordzhinikidze district. On 8 September 1942 he was taken to Krasnovodsk, Turkmen SSR. On 14 September 1942 he is placed in the prison infirmary.
Died on 20 September 1942 in Krasnovodsk prison. According to witnesses, buried in Krasnovodsk cemetery.
More information sources
Kārlis Ulmanis as Acting President 1936 - 1940 | The Chancellery of the President of Latvia (president.lv)
Related timeline
Related stories