A commemorative badge dedicated to Admiral Makarov has been found in the courtyard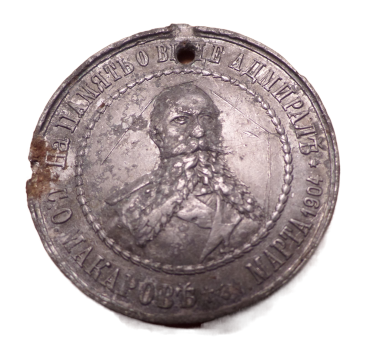 A small military relic can testify to an extensive historical story. And although the badge represents the events that took place during the Russo-Japanese War, it shows the variegated military history and the involvement of our Latvian riflemen in other military conflicts both before and after the Wars of Independence.
The token was found in Vidriži parish at the foundations of the barn. It is a commemorative badge dedicated to Admiral Makarov. He took part in naval attacks in the Russo-Turkish and Russo-Japanese Wars. In 1904 (Russian-Japanese War), his ship "Petropavlovsk" ran into a mine and was killed. Markov was one of the key figures in the Russian navy and navy. The sinking of the ship in Petropavlovsk was a blow to the fleet with far-reaching consequences. Russia severely lost the war with Japan, which highlighted its location at another level of development. It was not the only ship destroyed in a naval battle or running into mines. It was probably brought to Latvia by a Latvian sailor who was serving in the navy at that time. The Russo-Japanese War is a war in which Latvians join the Russian army en masse, mainly in the land forces.
According to the current landowner's estimates, the owner and loser of the token could be a former landlord who, after returning from Russia's Far Eastern War, also took part in the Latvian war of independence and received this land in Vidriži as a Latvian rifleman. The aluminum badge is well preserved in the ground and its diameter is 3.5 cm. There is also a hole in it, most likely to hang the badge around your neck or otherwise.
Storyteller: Aivars Liepiņš, Kaspars Špēlis; Wrote down this story: Katrīna Valaine
Related timeline
Related topics
Related objects
The museum exhibits the history of Latvia from 1940 to 1991, under the occupation of Nazi Germany and the Soviet Union. 'House of the Future' is a reconstruction and expansion project of the Occupation Museum designed by the well-known American Latvian architect Gunārs Birkerts as well as the new exhibit of the museum. The exhibit 'History of Cheka in Latvia' was created by the Occupation Museum and it is located in the 'Corner House', which is the former USSR State Security Committee (KGB) building. Latvian Occupation Museum was founded in 1993. It tells the long-hidden story of the fate of the Latvian state, nation and land under the occupation of two foreign totalitarian powers from 1940 to 1991. At the end of 2020 the museum had more than 70,000 different historical items (documents, photographs, written, oral and material evidence, objects and memorabilia). Museum specialists have recorded more than 2,400 video testimonials, making it one of the largest collections on occupation in Europe. The events that unfolded in Latvia, Lithuania and Estonia clearly show us what the nations had to endure under the two totalitarian regimes.
Latvian Riflemen dugouts and trenches in Tīreļi are located in Babīte parish, Mārupe municipality, in the vicinity of the Antiņi Latvian Riflemen Cemetery and the former medicine warehouse. During World War I this was the defensive position of Latvian Riflemen of the Russian Imperial Army. A complex of trenches and surface dugouts was built in the sandy hills. Trench or positional warfare is the best way to accurately describe World War I and emphasise the importance of fortifications. They were based on the research of military engineers and adapted to the environment and the development of new weapons. The everyday life of a soldier is a continuous improvement of defensive fortifications. Sometimes soldiers would give the dugouts names that reminded them of their homes and would help to forget about the reality of the war. Trench lines were complex defensive systems that were hard for the enemy to take. With the development of weapons these defences became even more sophisticated. The roofs of dugouts were reinforced to withstand artillery shells. Trenches were made in changing patterns and directions so that explosions would cause as little damage as possible. Movement passages had pockets that were used as short-term hiding spots during artillery fire, because they protected soldiers from shrapnel and rubble. Today part of the fortification has been restored and you can visit 3 restored dugouts and a 100 m long section of the trenches.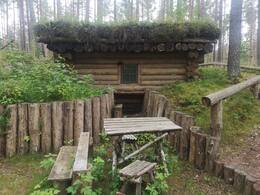 Atrodas Rīgas centrā, Latviešu strēlnieku laukumā pie Latvijas Okupācijas muzeja.
Piemineklis latviešu strēlniekiem atklāts 1971. gadā Latviešu strēlnieku laukumā līdzās agrākajam Latviešu sarkano strēlnieku muzejam (tag. Okupācijas muzejs). Padomju laikā tematu aplūkoja caur šauru komunistiskā režīma ideoloģijas prizmu. Vieta kalpoja Rīgas reprezentācijai un idealizēta stāsta veidošanai, nostiprinot mītu par latviešiem kā Padomju varas cīnītājiem.
Vieglo kājnieku vienības Krievijas armijā sauca par strēlniekiem. 1. pasaules karā tika izveidoti latviešu strēlnieku formējumi, lai tēvzemē cīnītos pret Vācijas armiju. Tās bija motivētas, bīstamas un disciplinētas kaujas vienības. Augstais izglītības līmenis un vācu valodas zināšanas noderēja izlūkošanai un negaidītu uzbrukumu veikšanai. Sabrūkot Krievijas impērijai un Vācijai pilnībā okupējot Latvijas teritoriju, ļoti liels Latvijas iedzīvotāju skaits nonāca Krievijā, kur turpināja saskarties ar lielinieku aģitāciju. Sākotnēji pieauga atbalsts Ļeņina idejām un dalībai Krievijas Pilsoņu karā. Vēlāk sekoja vilšanās, un lielākā daļa latviešu karavīru novērsās no kreisajām idejām un atgriezās Latvijā. Karavīri, kuri palika Krievijā, vairums tika nogalināti "Staļina tīrīšanās" (1936. – 1938.). Latviešu strēlniekiem bija lieli nopelni Latvijas valsts un tās armijas izveidē.
Mūsdienās var apskatīt pieminekli un līdzās esošo Okupācijas muzeju.