Latvian red riflemen
I WW1 & Wars of Independence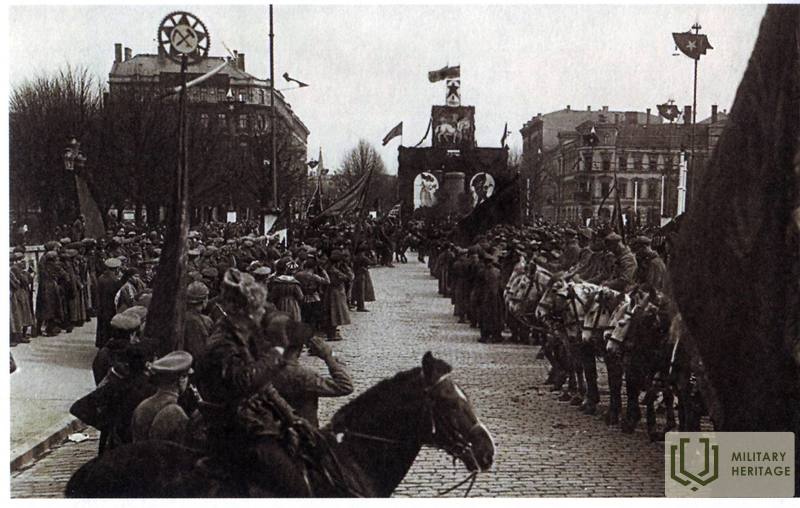 The term "red riflemen" originated during the Russian Civil War in 1918, linking Latvian rifle units with the "Red Guards", the Russian "Red Army" and the general term "red", which was attributed to supporters of the Bolsheviks (later communists).
With the outbreak of World War I, the territory of Latvia was gradually occupied by German troops, and a large refugee movement began. In the summer of 1915, the Russian army suffered heavy defeats, Kurzeme, Zemgale and part of Selia came under German occupation. The Latvian initiative to form national units was one of the few straws that the persecuted Russian army could cling to. On August 10, 1915, the press published an invitation to the Latvian people on the establishment of national military units, written by writers K. Skalbe and A. Ķeniņš and signed by members of the Russian State Duma Jānis Goldmanis and Jānis Zālītis. A total of about 8,000 volunteers applied, and there were up to 25,000 men in Latvian rifle battalions throughout World War I.
In 1917, the ideas of greatness spread rapidly among Latvians who had been desperate by the war. The slogans of the Bolsheviks about peace, land and bread were very popular in the war-torn Latvian society. The influence of the Bolsheviks also increased among the riflemen, who suffered pointless and heavy losses in last winter's battles.
In the autumn of 1917, taking advantage of the decline in the combat capabilities of the Russian army, the Germans occupied Riga, and in February 1918, the whole of Vidzeme and Latgale. Many riflemen surrendered to the Germans or simply deserted from the units to stay in Vidzeme. The Bolsheviks and the most loyal riflemen fled to Russia. On April 13, 1918, a division of the Latvian Rifle Councils was established in Moscow.
Latvian red rifle units were used to guard the Russian Soviet government and senior officials, foreign embassies, maintain order in Russia's largest cities, suppress farmers 'and workers' riots, and fight against Bolshevik political opponents during the Russian Civil War of 1918-1920.
With the conclusion of a peace treaty between Russia and Latvia, in the summer of 1921, 11,395 former "red" Latvian riflemen returned from Soviet Russia. Part of the commanding staff remained in Soviet Russia and had successful military careers. 1937-1938. As a result of Stalin 's great repression in 2006, most former riflemen were killed.
More information sources
1. The blizzard of souls. Digital Museum. Available: https://www.dveseluputenis.lv/lv/laika-skala/notikums/93/1917.-gads--latvijas-neatkaribas-cela-sakums/, https://www.dveseluputenis.lv/lv/laika -scale / event / 128 / strelnieki-returns-majup-from-russia / [viewed: 08.05.2021].
2. Šiliņš J. "Latvian Red Riflemen". National Encyclopedia. Available: https://enciklopedija.lv/skirklis/36374-latviešu-sarkanie-strēlnieki [accessed 08.05.2021].
3. Vējiņš J. Latvia - in the course of destiny 1918 - 1991, Press House, 2007.
Related timeline
Related objects
Related stories