Latvians in the army of the Russian Empire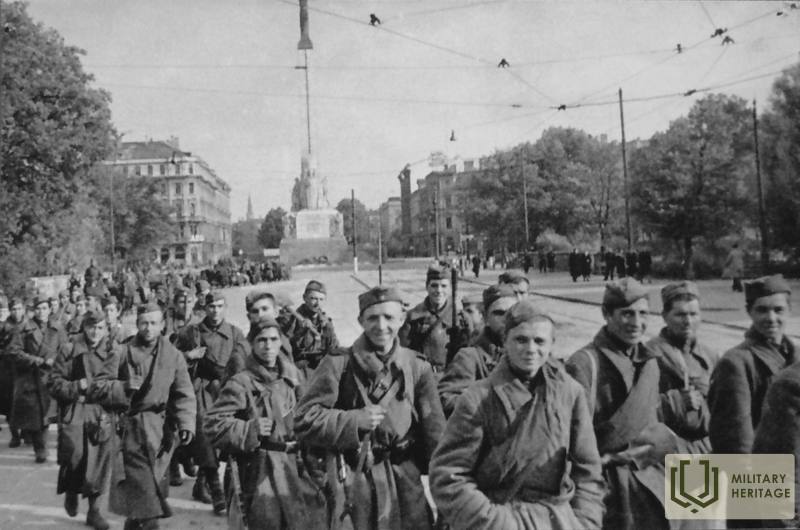 At the beginning of World War I, the territory of Latvia had been part of the Russian Empire for more than a hundred years. Latvians took part in all the major wars of the Russian Empire, but no direct war had taken place in Latvia for more than a hundred years since Napoleon's army invaded in the 19th century. at first. In 1914, with the outbreak of World War I, the territory of Latvia was affected by mobilization and began recruiting men from the age of 18. After the general mobilization, the size of the army of the Russian Empire increased almost 4 times.
The origins of the Russian Empire date back to the Great Northern War (1700-1721), when the army was constantly transformed to improve its combat capabilities. With the victory in this war, the Russian Empire is founded, which includes the territory of the former Russian tsarist and the 18th-19th centuries. territories conquered in the 16th century, incl. Latvia and Estonia. Military reforms in the army of the Russian Empire are continuing, and the introduction of a recruitment system in the territory of Latvia is being started. 19th century on the other hand, many young Latvians and Estonians start studying in Russian military schools, as studying there is free and was a way to secure a place in society. Many of them become officers and also generals.
The war brought about by the First World War reached the territory of Latvia in the first days after the beginning of the conflict. For its people, the Russian Empire's involvement in the war first meant mobilization, the confiscation of food, clothing, fuel and vehicles, and the subjugation of all civilian life to war. The general mobilization, which began in full in the Russian Empire on July 31, 1914, followed the 1910 prescription, recruiting men between the ages of 18 and 43. In total, during the war, mobilization took place in the territory of Latvia seven times, mobilizing 120-140 thousand people. Latvian soldiers were included in the Russian troops deployed in the territory of Latvia.
The 20th Army Corps (sometimes referred to in the literature as the "Latvian Corps") was one of the most combat-capable parts of the Russian army, which was involved in the fighting in East Prussia shortly after the war. Despite initial success, the Russian army was defeated and forced to retire. In February 1915, the 20th Army Corps crashed when the Germans besieged and destroyed it in the forests of Augustów (northeastern Poland today). 15-20 thousand soldiers mobilized in the Baltic provinces (Estonia, Vidzeme and Kurzeme) lost their lives and disappeared, most of them Latvians.
Along with the order of August 1, 1915 to form Latvian rifle units in the Russian Imperial Army, 8 rifle battalions were established, which went down in the first battles in October 1915. After the end of the First World War, some Latvian riflemen remained in Russia and fought in the Civil War on various sides of the front, some participated in the Freedom Fights in Latvia. In 1921, with the advent of peacetime, a large number of former riflemen who had spent the last five years at war returned to Latvia.
More information sources
1. The blizzard of souls. Digital Museum. Available: https://www.dveseluputenis.lv/lv/laika-skala/notikums/64/1.-pasaules-kara-sakums-latvija/ [accessed: 01.04.2021.].
2. Jacobson, E. LA.LV publication "From the Sons of Peasants to Tsar's Officers", 2014. Available at: https://www.la.lv/no-zemnieku-deliem-par-cara-virsniekiem [accessed: 01.04.2021].
3. Zariņš K. Publication of the Latvian War Museum "1914: Mobilization and Battles in East Prussia", 2014. Available: http://www.karamuzejs.lv/lv/Petnieciba/publikacijas/01_1914gads.aspx [viewed: 01.04.2021. ].
4. Zariņš K. "The First World War in Latvia and the Fighters of Latvian Riflemen", 2015. Available: https://www.sargs.lv/lv/pirmais-pasaules-kars/2015-07-15/pirmais-pasaules-kars- latvia-and-latvian-strelnieku-cinas [viewed: 05.05.2021.].
Related timeline
Related objects
Atrodas Rīgas centrā, Latviešu strēlnieku laukumā pie Latvijas Okupācijas muzeja.
Piemineklis latviešu strēlniekiem atklāts 1971. gadā Latviešu strēlnieku laukumā līdzās agrākajam Latviešu sarkano strēlnieku muzejam (tag. Okupācijas muzejs). Padomju laikā tematu aplūkoja caur šauru komunistiskā režīma ideoloģijas prizmu. Vieta kalpoja Rīgas reprezentācijai un idealizēta stāsta veidošanai, nostiprinot mītu par latviešiem kā Padomju varas cīnītājiem.
Vieglo kājnieku vienības Krievijas armijā sauca par strēlniekiem. 1. pasaules karā tika izveidoti latviešu strēlnieku formējumi, lai tēvzemē cīnītos pret Vācijas armiju. Tās bija motivētas, bīstamas un disciplinētas kaujas vienības. Augstais izglītības līmenis un vācu valodas zināšanas noderēja izlūkošanai un negaidītu uzbrukumu veikšanai. Sabrūkot Krievijas impērijai un Vācijai pilnībā okupējot Latvijas teritoriju, ļoti liels Latvijas iedzīvotāju skaits nonāca Krievijā, kur turpināja saskarties ar lielinieku aģitāciju. Sākotnēji pieauga atbalsts Ļeņina idejām un dalībai Krievijas Pilsoņu karā. Vēlāk sekoja vilšanās, un lielākā daļa latviešu karavīru novērsās no kreisajām idejām un atgriezās Latvijā. Karavīri, kuri palika Krievijā, vairums tika nogalināti "Staļina tīrīšanās" (1936. – 1938.). Latviešu strēlniekiem bija lieli nopelni Latvijas valsts un tās armijas izveidē.
Mūsdienās var apskatīt pieminekli un līdzās esošo Okupācijas muzeju.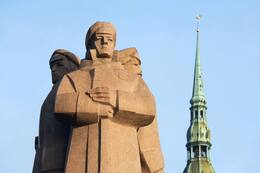 Plakanciemā latviešu strēlnieki izcīnīja savu pirmo uzvaru vēsturiskajā 1915. gada 29. oktobra nakts kaujā – tikai nedēļu pēc tam, kad 1. Daugavgrīvas latviešu strēlnieku bataljons bija izgājis no Rīgas un uzsācis frontes darbību. Ar sekmīgo Plakanciema kauju sākās mūsu strēlnieku varonīgais cīņu ceļš. Nakts uzbrukumam pie Misas upes bija arī nenovērtējama morāla nozīme – latviešu strēlnieku cīņas spējas neviens neapšaubīja, viņi ātri kļuva populāri un uz mūsu nacionālajām vienībām pārnāca daudzi latvieši no krievu pulkiem.
Piemiņas akmeni veidoja pēc Ķekavas novada pašvaldības pasūtījuma Ķekavas novada akmens apstrādes un restaurācijas uzņēmums "Akmens apstrādes centrs "AKM"" - akmens amata meistari Guntis Pandars un Pēteris Zvaunis.
Panākumu Plakanciema kaujā nodrošināja rūpīga nepārtraukta četru dienu ilga izlūkošana, 1. rotas komandiera Fridriha Brieža sastādītais pēkšņā uzbrukuma plāns un mūsu karavīru varonība.
Frontē tobrīd situācija bija ļoti saspringta, jo vācu karavīri vairākās vietās lēnām turpināja tuvoties Rīgai. Pie Plakanciema nesen viņi pārnāca pāri Misas upei un sāka ierīkot priekštilta pozīciju, izvietojot vācu 376. kājnieku pulka 2. bataljonu un 4 ložmetējus.
Latviešu strēlnieku uzbrukums tika balstīts uz pārsteigumu, ātru rīcību un dažādu darbību koordināciju. Katram 1. rotas strēlniekam tika izsniegtas četras rokas granātas, 60 karavīri uzvilka baltos apmetņus, jo tikko bija uzsnidzis plāns sniegs. Kad uzbrucēji pielīda pietiekoši tuvu vācu pozīcijām, pulksten 22.00 tika dots signāls un sākās trieciens. Abi mūsu ložmetēji apšaudīja pretinieka abus flangus, lai vācieši nevarētu piesaistīt rezerves. Metot rokas granātas, latviešu strēlnieki strauji iebruka vācu ierakumos, krievu artilēristi apšaudīja Misas upes laipas un pretinieka galveno aizsardzības līniju. Ienaidnieka karavīri apjuka - ciešot smagus zaudējumus, viņi atkāpās pāri upei un atstāja placdarmu uzbrucēju rokās. Viena mūsu rota bija sakāvusi četras reizes lielāku pretinieka vienību!
Latviešu strēlnieki zaudēja sešus kritušos – Juri Butenieku, Frici Ērmani, Rūdolfu Hofmani, Kristapu Krūmiņu, Jāni Nauri un Kirijanu Šnurovu. Viņi visi apbedīti Rīgas Brāļu kapos. No astoņiem ievainotajiem divi vēlāk nomira – Jāzeps Brūveris (apbedīts Pleskodāles kapos ) un Jānis Skuja (apbedīts Rīgas Brāļu kapos ). Vācu zaudējumi – 31 karavīrs kritis, 34 saņemti gūstā un 45 ievainoti. Trofejās uzbrucēji ieguva ložmetēju un 35 šautenes.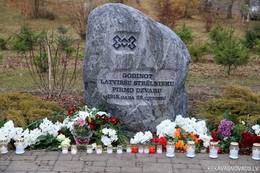 Located in Valmiera City (Center) Cemetery, Lillijas Street 7.
A granite obelisk can be seen, the details of which are forged by the sculptor Wilhelm Trey.
The monument was unveiled on June 22, 1923. About 150 soldiers are buried in the brothers' cemetery.

Several fighters of the First World War and the War of Independence were buried outside the Brothers' Cemetery, including the first dead of the Cēsis Regiment School Company, LKOK Edgars Krieviņš.
At present, there are 14 sets of graves of different lengths in the brothers' cemetery, on which 139 white wooden crosses have been erected, but there are no more plaques with the names of the fallen on the crosses. One black granite cross has survived.
During the communist occupation, intensive civil burials were made in the cemetery of the brothers. After the restoration of independence in 1994, the plan of burials in the brothers' cemetery was changed, and the cemetery clusters are now established crosswise, only one of which has retained its former orientation.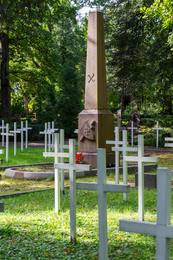 Related stories
A small military relic can testify to an extensive historical story. And although the badge represents the events that took place during the Russo-Japanese War, it shows the variegated military history and the involvement of our Latvian riflemen in other military conflicts both before and after the Wars of Independence.