Regiment

First Independance, I WW1 & Wars of Independence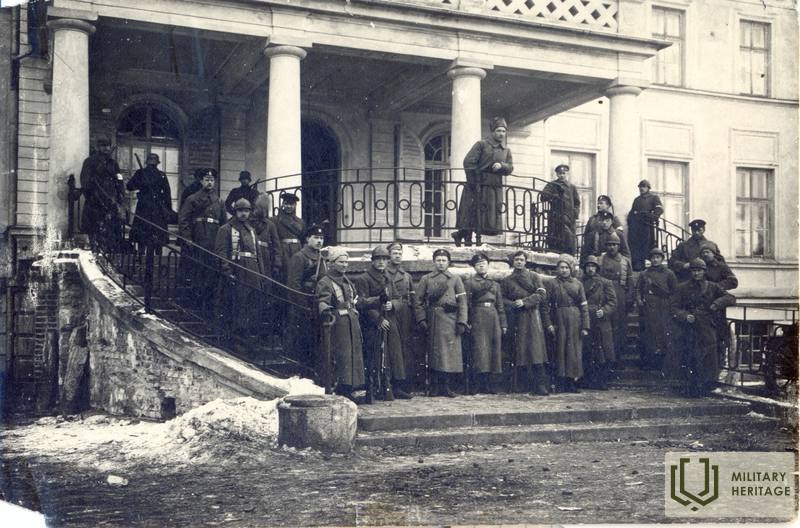 A regiment (Latvian: pulks, German: Regiment) is a military unit in the European military tradition, including the Latvian Army.
It was the largest unit of a single weapon class (foot soldiers, mounted infantry or artillery) under the command of a colonel. For tactical tasks, regiments divided into battalions and companies for foot soldiers, division and batteries for artillery, and divisions and squadrons for mounted infantry.
Related timeline
Related objects
Atrodas Vecgulbenes muižas teritorijā – vēsturiskajā centrā.
Gulbenē starpkaru periodā atradās Latvijas armijas garnizons, kurā bija izvietots 7.Siguldas kājnieku pulka bataljons, 1930-to gadu vidū uzsāka militāras aviācijas bāzes veidošanu, jo kara aviācijas veiksmīgai darbībai jau miera laikā jānodrošina plašs aerodromu tīkls. Īpaši nozīmīgi aerodromi tādās vietās, kur izveidojušies svarīgi dzelzceļu un ceļu mezgli.1935.gada 11.novembrī te uzsāka kara aerodroma būvniecība. Ar 1937.gadu Gulbenē izvietoja jaunizveidotu Aviācijas pulka vienību, kas kļuva par Latgales divīzijas izlūku 6.eskadriļu, palielinot armijas vienību skaitu Latvijas austrumu robežas tuvumā.
Redzama Oranžērijas ēka.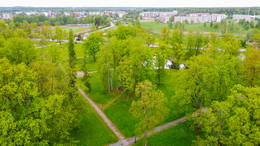 The longest pier in Latvia - the Northern Pier - was built at the end of the 19th century as a very important part of the Liepaja Sea Fortress and military port. The length of the pier is 1800 metres, the width - 7.35 metres.
The Northern Pier is one of the first port structures of Emperor Alexander III, built between 1890 and 1892 before the excavation of the Karosta Canal. Together with the North Breakwater, the South Breakwater and the South Pier, the pier formed the outpost of Liepaja.
Liepaja Fortress Battery No 3 was located next to the North Pier of the Karosta and was planned to be the largest in terms of armament. Platforms were built for four 6-inch (152 mm) guns of the 1892 model of the Canet system, five 11-inch (280 mm) guns of the 1887 model and two 57 mm Nordenfeld anti-tank guns, as well as 18 9-inch (229 mm) guns and mortars.
Today, Battery 3 is most affected by the prevailing south-north sea current, which creates a whirlpool effect behind the North Pier, resulting in the washouts of the gun platform foundations.
The North Pier protects the Liepaja harbour area from North Westerly winds. It is a favourite place for residents and visitors to Liepaja to watch sunsets, fish and watch the sea in different weather conditions. Especially spectacular during storms.
There is ample parking at the North Pier. There are also restrooms and a café with a unique sea view.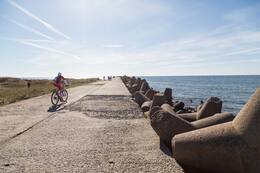 Piemineklis atrodas Fabrikas un Stacijas ielu krustojumā, kur to 1935. gada 9. jūnijā atklāja ģenerālis Rūdolfs Bangerskis, godinot 1919. gadā Līvānu atbrīvošanas kaujās kritušo karavīru piemiņu.
Tā galvenais elements – 15 tonnas smags, vertikāli novietots lielgabala stobrs. 1958. gadā padomju vara Līvānu brīvības simbolu demontēja, lielgabala stobru sagriežot metāllūžņos. Lielgabala lodes iedzīvotāji saglabāja visus padomju gadus, un iepriekšējā vietā tās atgriezās pēc vesela pusgadsimta. Pieminekļa atjaunošanas ideja tautā visus šos gadus bija dzīva. Līvānu novada dome kopīgi ar iedzīvotājiem aktīvi darbojās pieminekļa atjaunošanā. Tika vākti tautas ziedojumi, un 2004. gada 3. oktobrī atjaunoto Līvānu Atbrīvošanas pieminekli atklāja tā vēsturiskajā vietā pilsētas parkā.
Uzraksts uz pieminekļa: "Krituši par Latviju pie Līvāniem un apkārtnes atbrīvošanas 1919. gadā Jelgavas kājnieku pulka karavīri. Bijušā Ziemeļlatvijas partizānu pulka karavīri."
Seko karavīru un partizānu vārdi.

Līdzās uzstādītas piemiņas plāksnes Lāčplēša kara ordeņa kavalieriem Līvānu novadā.

Pieminekļa meta autors arhitekta Pāvils Dreimanis.

1919. gada 3.–5. oktobris. Līvānu kauja
1919. gada 3. oktobrī lielinieki saņēma spēcīgu triecienu frontē pie Līvāniem. Uzbrukumā Līvāniem iesaistījās 3. Jelgavas un 4. Valmieras kājnieku pulka vienības, kā arī Latvijas vācu zemessardzes (bijušā landesvēra) vienības. Ar artilērijas atbalstu 3. Jelgavas kājnieku pulka vienības pārcēlās pāri Daugavai. Pēc sekmīgās pārcelšanās sākās kaujas par Līvāniem, kas ilga visas dienas garumā. Ap plkst. 17:30 tika ieņemta Līvānu stacija, bet stundu vēlāk tika pārieti tilti pār Dubnas upi. Kopīgiem spēkiem izdevās lieliniekus padzīt no Līvāniem, plkst. 19:00 pilsētai bija pilnībā atbrīvota. 1919. gada 5. oktobrī lielinieki centās atgūt Līvānus, uzbrūkot 3. Jelgavas un 4. Valmieras kājnieku pulku jaunajām pozīcijām. Latvieši ar grūtībām noturēja ieņemtās pozīcijas. Šis bija pirmais nopietnais un sekmīgais uzbrukums Austrumu frontē laika posmā no 1919. gada jūlija līdz oktobrim.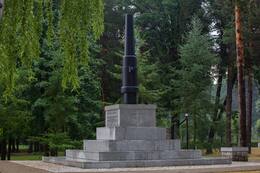 Related stories
On June 20, 1919, in the Naukšēni manor, near Rūjiena, the formation of the 7th Sigulda Infantry Regiment was started, according to the order of the Commander of the Northern Latvia Brigade, Colonel Jorgs Zemitans. Initially, a small battle group of 22 officers and 1,580 soldiers was formed from the Northern Latvian Brigade Reserve Battalion, which was named the Danker Division in honor of its first commander, Oskars Dankers. A few days later, the unit was included in the 2nd Battalion of the 3rd Jelgava Regiment, but on August 23, adding to the number of jewelry - in the 7th Sigulda Infantry Regiment.
On December 1, 1918, parts of the Red Army, based on the Red Rifle units, invaded the territory of Latvia. In order to protect their homes, families, native counties and escape from terror, the men around Balvi took up arms and went into the forests, and the first "green" groups began to form. In the spring of 1919, when the mobilization was announced, many men in the Balvi area were not allowed to fight in the Soviet Latvian army and they joined the "green" groups. Balvi, Silakrog, Rugāji, Teteru-Dūrupe and Liepna groups were formed. In the vicinity of Balvi, the activity of "green" groups became more active in March 1919.