Consecration of the Finnish Jaeger flag at the Holy Trinity Cathedral in Liepaja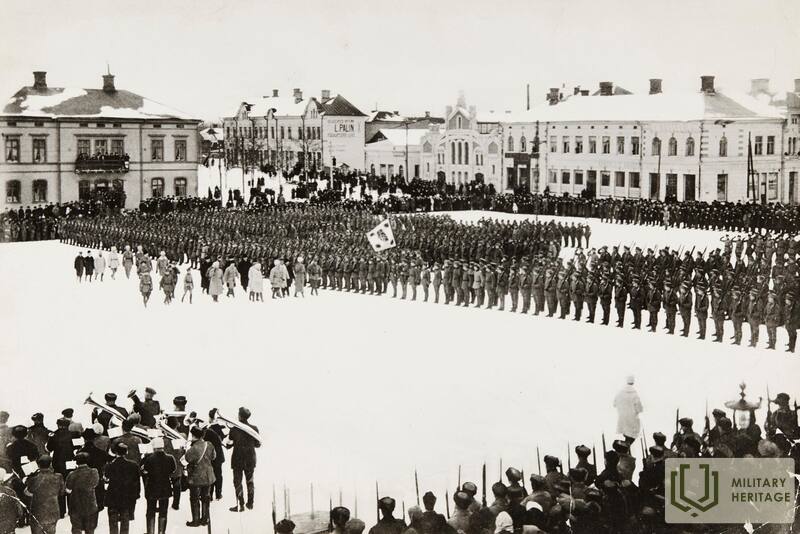 The first flag of the independent Finnish army was consecrated in 1918 in the Holy Trinity Church in Liepaja, where the Finnish jaegors took an oath of allegiance to the legitimate government of independent Finland before returning home.
The first flag of the Independent Finnish Army was consecrated on February 13, 1918 in the Holy Trinity Church in Liepaja. Finnish Jaegers swore allegiance to the legitimate government of Independent Finland.
The next night, the main battalion went home. They arrived in Vasa on February 25, 1918.
The Jaeger flag was first raised in Helsinki on May 16, 1918, in a parade to mark the end of the victory in the War of Independence. The flag fluttered in front of the Finnish Jaeger Regiment. The regiment was commanded by the former commander-in-chief of the battalion's main regiment, Lieutenant Colonel Erik Jernström.
At the Finnish Defense Forces parade, the Jaeger flag takes the honorable place immediately after the national flag. Independent Finland remembers its fighters.
Storyteller: Valdis Kuzmins; Wrote down this story: Valdis Kuzmins
Used sources and references:
https://maavoimat.fi/en/-/jaakareiden-tyo-elaa-puolustusvoimissa
https://jp27.fi/auf-den-spuren-der-jaeger/die-jaegerfahne/?lang=de
Related timeline
Related objects
Liepājas Sv.Trīsvienības katedrālē, Lielā ielā 9, atrodas somu jēgeriem veltīta piemiņas plāksne.
Somu jēgeri bija no Somijas izbraukušajiem brīvprātīgajiem izveidota Vācijas impērijas karaspēka vienība, kas ar nosaukumu 27. Karaliskais Prūsijas jēgeru batajons 1916. -1917. gadā piedalījās Pirmā pasaules kara kaujās Austrumu frontē Latvijas teritorijā.
Pirmā pasaules kara laikā Somijas lielkņaziste atradās Krievijas impērijas sastāvā un daudzi somi vēlējās Vācijas uzvaru karā, lai veicinātu neatkarīgas valsts izveidi. 1914. gada 20. novembrī Helsinkos dibināja Somijas neatkarības kustību, kas plānoja veidot arī neatkarīgās valsts bruņotos spēkus. Kad 1915. gada janvārī Vācijas valdība apstiprināja gatavību apmācīt somus, sākās brīvprātīgo vērvēšana un līdz 1916. gada pavasarim Vācijā atradās gandrīz 2000 karavīru, kurus nosauca par 27. Karalisko Prūsijas jēgeru bataljonu.
No 1916. gada jūnija bataljons atradās Rīgas frontē, kad līdz 1917. gada martā to pārvietoja uz Liepāju. Pēc Februāra revolūcijas sākās Krievijas impērijas sabrukšana un 1917. gada 6. decembrī Somijas parlaments pasludināja valsts neatkarību.
1918. gada 13. februārī bataljons zvērēja uzticību Somijai Liepājas Svētās Trīsvienības baznīcā. 1918. gada 15. februārī bataljons ar kuģiem devās no Liepājas ostas, lai atgrieztos dzimtenē Vasas ostā un piedalītos Somijas pilsoņu karā pret sarkanajiem, kas 1918. gada 27. janvārī bija veikuši valsts apvērsumu. Labi apmācītie un kaujas pieredzi ieguvušie jēgeri veidoja Somijas valsts armijas kodolu un liela daļa kļuva komandieriem Otrā pasaules kara laikā.
Svētās Trīsvienības baznīcā iesvētītais bataljona karogs kļuva par pirmo neatkarīgās Somijas karogu.