Kārlis Zāle and the Freedom Monument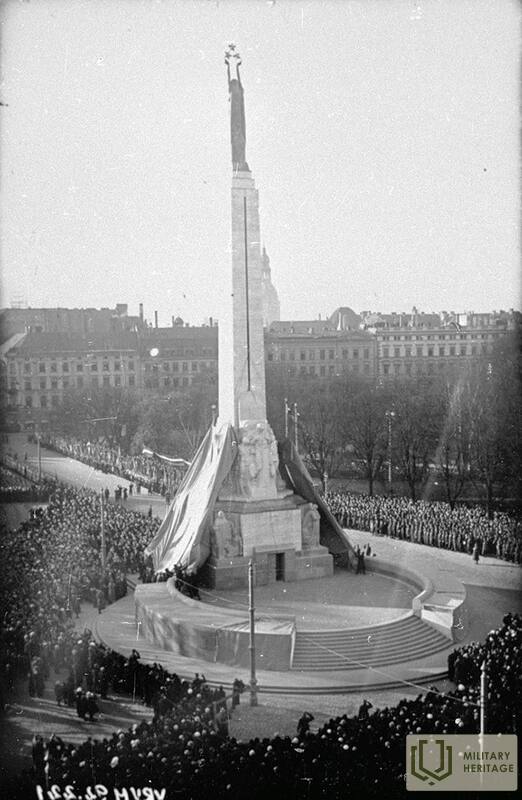 The narrator describes Kārlis Zali as a personality who created the most famous works of Latvian art. The description is dedicated to the commemoration of the hall in 1942 (the year of K. Hall's death). The memories have been chosen to describe K. Zāle's works based on the author's personal qualities and perception of the world.
"(..) In the course of life and work, the personality of the Hall has developed from its inner center. The hall is one of those people with whom you could immediately feel the inner core, which is important. This core lay in his vitality. the innate forces, the legacy of the course ancestors, is the great dowry that Laima placed in the cradle of the son of Course. Nature had endowed the Hall with wasteful nature. The tireless liveliness flowed on the sculptor's floor, in every gesture, in the expressive play of features and in the language, giving everything a special freshness and juiciness. His fantasy sparkled briskly and spontaneously from the fertile vital layer. From here came all that was original and healthy primitive in the life and work of the Hall. This unspoiled stockpile of peasant forces broke through the way and overcame adversity. In creative work, it provided an opportunity to say something of our own and something new, to stand out in the first place, gaining outstanding achievements in our monumental sculpture. In this region of art, we did not have our own traditions grown in the circle of modern culture, which began to develop in the region of Latvian painting since the end of the last century. In this way, we could easily submit to the influence of the ancient cultural peoples, remaining imitators and descendants. "If this did not happen, if in a relatively short time our best sculptors could create something unique and remarkable in the field of monumental sculpture, it is due to the rustic foundation of our lives. This ancient layer is expressed by Zāle with deep and instinctive security. could grow from the roots of rustic fresh primitiveness, looking beyond the ancient wisdom and beauty of today's cultural decoration in its - I would say - barbaric splendor and grandeur ... '
"(..) We, the master said, do not have to be ashamed and run away from ourselves and the time we stand, but we must be who we are - Lat public artists. If you are an artist, show the power of your land, its blessings and beauty, show the workers in their efforts, show the mothers of the guardians of the family, the guardians of the fatherland, show it all with dignity, warm feelings and reverence for others to see who we are , and we could be respected. But if thou make thy faces perverse in thy foolish countenance, and smite the face of the peasants and of the laborers with mud, and make them like crippled beasts, and show them as slaves and criminals? . It doesn't hurt to throw away your brushes and go digging ditches or do some other useful work. How can others respect you if you can't respect yourself? Being an artist does not mean slipping through life and random details, but it means looking for the core and the nucleus in nature and in people. The dilettante sticks to random details and does not see the main thing, but the other dilettante jokes with the form and rejoices as if about happy coincidences. If I spit, my spit will sometimes erupt with unknown twists and drops, but can it be approached by a serious artist for his art? This is done only by dilettante pawns, who show off their nonsense, but not by serious painters. Gentleman and dilettante - those words were bitter and despicable in the mouth of the Hall. The sculptor also did not respect light improvisation and empty excitement in art. Especially in the last stages of his life, Hall increasingly emphasized the importance of knowledge and true ability, skills and mastery. He highly respected the traditions of academic art. At the same time, at the meeting of the Brothers' Cemetery Committee, the sculptor refuted the academician F.'s objections that the horse floors he created were not in the right proportions. The hall then had the ring brought in and measured that everything was in line with recognized norms. F. then felt purely awkward. I remember that when showing the photos from the works of the masters of the academic field in the Luxembourg Museum, the Hall was happy: "What knowledge and skill here! It is immediately clear what the master wanted to achieve. There are proportions, understanding of the formation of forms, a sense of beauty. Such works will still retain their value and will not get tired. But with us, some good ones imagine in their incompetence and unpreparedness that we make great works of art. "(..)"
"(..) On the one hand, Zāle paid attention to serious studies of form, understanding of movements and anatomical structure, but on the other hand, he focused on composition. For students who have already imagined we are ready-made artists who are allowed to do as they please, Zāle simply told them not to waste time here at the academy. The profession of sculpture must be studied at the academy, knowledge and art must be acquired. It is very good to do what everyone likes and what comes to mind at home. With great enthusiasm, Professor Zāle was able to approach the students without suppressing their individual perception, but finding out what to do and how to approach their task. For the first time, many people opened their eyes and the favorable results could be seen in an exhibition of students' works in a short time. The hall delved into the meaning of the composition, the structure of forms, the movement of figures, expression and characterization. When the student had realized what to look for in a certain essay, the study of strict natural forms took on a completely different meaning. In this way he taught the students to consciously control their formation, but not to make no sense to simply copy the visibility of nature (...) "
"(..) He took part in the design competition for the Freedom Monument in 1924 and 1925. In 1925, the Cabinet of Ministers decided that the Freedom Monument should be erected after the Hall, but this decision was not implemented. There was a lot of intrigue and noise going on around these years, but there was no definite positive outcome. However, the competition, like the work of the Brethren's Cemetery, played an important role in the development of the Hall. He gained considerable experience, got a lot to consider and think about, to find out his ideas, which could later be put into practice. The master and some of his closest friends had their own meeting place in the city • - at Madernieka, Brīvības Street 13. Here, collaborators also gathered, as this was the home of this artists' association. There, the events and artistic issues of the day were discussed in detail; wrote or discussed some good articles. There was a "headquarters" here, where the situation was discussed during the monument competition, rejoicing in success and flirting with failures. The issue of the monument was abandoned in 1930. The last competition for the design of the monument took place in 1930, when the hall won the first prize. At that time, a high barracks - a workshop with bright windows - rose on the monument's square. The chisels of many stonemasons and craftsmen were knocked both on the ground and on the platforms. alti, tearing the solid granite mass. It was like a strange country of fairy tales, where the creator's will to immerse and remain in matter was seen in the spirit. Sunlight shone in the armchair of the spacious rooms, and the white floors of the giants gleamed in it, everyone waiting for the moment of their fulfillment in a quiet solemnity. There were scattered blocks of stone all around with arranged parts: arms, waist, heads, a true membrane di- siecta - as the Latin poet says. These impressions remained indelible in the workshop. The Freedom Monument was made. In the meantime, the hall had acquired a house on Avotu Street. Its income was to support the existence of the master and his family in order to be able to live and work independently in the future, as the artist's intentions were rich and extensive (...).
"(..) The past and the present are included in the Freedom Monument as one indivisible song in the sounds of heroism. In the great breath it expresses the whole life of the people: work, search for the spirit, family, military power; Lāčplēsi - a performer of the savage forces, a singer-vaideloti; the shackles of slavery and the image of Freedom with shining three stars are also opened by historical scenes. The wonderful light of the legend shines everywhere. Many other works of the Hall in recent years tell the same. in the images of reality here the master seeks the essence and elevates the reality itself to the solemn and simple beauty of the legend (..) "
Storyteller: Jānis Siliņš
Used sources and references:
newspaper "Latvian Monthly", no. 5. 1942. The title of the article "Kārlis Zāle"
Related timeline
Related topics
Related objects
Atrodas Rīgas centrā, Brīvības laukumā.
Brīvības piemineklis ir viens no izcilākajiem Latvijas vēstures, arhitektūras un mākslas pieminekļiem. Celts pēc Kārļa Zāles projekta par tautas ziedojumiem. Atklāts 1935. gadā kā latviešu tautas brīvības un tēvzemes mīlestības simbols. Kopā ar Rīgas Brāļu kapu ansambli tas pieder pie vērtīgākajiem monumentālās arhitektūras un tēlniecības paraugiem.
Brīvības piemineklis izsaka latviešu kultūras ētiskās un estētiskās vērtības. Simboli atspoguļo brīvības filozofisko būtību un latviešu nācijas vēsturiskos priekšstatus par neatkarības izcīņas posmiem. Norāda uz fiziskā un garīgā spēka iemiesojumu. Heroiskā valoda stāsta par latviešu tautu kā pašpaļāvīgu, aktīvu vēstures veidotāju un sava likteņa noteicēju.
Tā vietā sākotnēji atradās Krievijas cara Pētera I piemineklis. 1. pasaules karā to demontēja, lai ar kuģi nogādātu Petrogradā. Vācijas armijas zemūdene kuģi torpedēja, un tas nogrima pie Igaunijas teritorijas Vormsi salas. Brīvības pieminekli Padomju okupācijas režīms vairākkārt plānoja nojaukt, bet tas nerealizējās.
Mūsdienās var aplūkot vienu no Latvijas simboliem un vērot armijas godasardzes tradīcijas.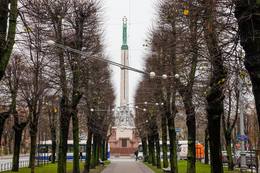 Atrodās: Inčukalna novads, Inčukalns, Miera iela, Inčukalna kapos.
Piemineklis atklāts: 1944. gada 16. Jūlijā. Piemineklis atklāts pēc K. Zāles nāves. Uzraksts: Par Tēvzemi kritušajiem partizāniem 1941 (atjaunots). Piemineklis atjaunots 2020. gada 5. novembri. Piemineklis atjaunots ar Inčukalna novada domes atbalstu. Restaurators mākslinieks Igors Dobičins.
Notikumi: "1940. gada 17. jūnijā Latviju okupēja PSRS. 1941. gada 14. jūnijā tika veiktas deportācijas. 1941. gada 22. jūnijā Vācija uzbruka PSRS un Latvijā ienāca Vērmahta daļas. Sarkanā armija un tās atbalstītāji atkāpās. Daudzviet Latvijā – arī Raganā, Sējā un Inčukalnā – organizējās bijušie aizsargi un patriotiski noskaņoti jauni cilvēki, lai aizsargātu savas mājas un steigtos padzīt padomju okupantus. Kād sējas pagasta "Ziediņos" 1941. gada 1. jūlijā atkal tika uzvilkts Latvijas brīvvalsts karogs, sarkanarmijas speciālas vienības pie Ziemeļu kapiem nošāva šo māju saimnieci – 39 gadus veco Elzu Višu, bet uz Sējas un Krimuldas pagastu robežas viņas māti – 64 gadus veco Elzu Martinovu. Apkārtnes iedzīvotājos tas vēl vairāk radīja naidu un sašutumu, un viņi sāka pulcēties tautas pretošanās kustībā un veidot pašaizsardzības vienības kuras dēvēja arī par pirmajiem partizāniem (Inčukalna grupas vadītājs bija Maksis Cālītis). Novada cīnītājiem pievienojās arī no Litenes militārās nometnes izbēgušie vai arī atbrīvotie kareivji un virsnieki no tā saucamā latviešu teritoriālā korpusa. Bruņota sadursme ar sarkanajiem notika dažas dienas vēlāk, 4. jūlijā, cīņa krita septiņi karavīri un Raganas aptiekāra dēls Pēteris Prašķēvičs. Turklāt Raganas kaujā tika ievainots un saņemts gūstā arī 17 gadus vecais Rēzeknes skolotāju institūta students Jānis Porietis, kuru pie Straupes spīdzināja, nošāva un apraka.
Šeit Inčukalnā tika izraksts kopīgs brāļu kaps, uz kuru astoņos zirgu pajūgos katrā pa vienam atveda no baltiem neēvelētiem dēļiem darinātus zārkus, lai kritušos varoņus guldītu dzimtajā zemē. Dažus mēnešus vēlāk, jau vācu okupācijas laikā, kapos uzstādīja Kārļa Zāles (no 1939. gada līdz mūža galam 1942. gada 19. februārim, sakarā ar smago slimību, ģeniālais latviešu tēlnieks izvēlējās Inčukalnu par savu dzīvesvietu) veidotu pieminekli – sērojošas mātes tēls pār rožu klēpi. XX gadsimta piecdesmitajos gados vietējie kompartijas aktīvisti pieminekli saspridzināja. Monuments bojāts un nekustīgs nogulēja līdz pat Atmodai, kad 80. gadu nogalē arvien vairāk cilvēku interesējās un runāja par 1941. gada 4. jūlija notikumiem un aicināja atjaunot Kārļa Zāles pieminekli. Šāda prasība izskanēja 1988. gada 8. septembrī Inčukalna pamatskolā sasauktajā tautas un varas sapulcē, uz kuru sanāca ne vien inčukalnieši, bet arī tuvējo pagastu iedzīvotāji, kā arī Vides Aizsardzības kluba un LNNK biedri no Rīgas.
… Pieminekļa atjaunošanā aktīvi piedalījās inčukalnieši – Teodors Ildens, Arvīds Blaus, Pēteris Vorfolomējevs, … un daudzi citi patriotiski nosakņoti cilvēki. 1989. gada 4. jūlijā svinīgā cermonijā no jauna atdzimušo cēlo un skumjo cilni iesvētīja mācītāja Vaira Bitēna."
Riga Brothers' Cemetery is located in the northern district of Riga. The cemetery extends over an area of 9 ha and is the most outstanding and significant memorial ensemble in Latvia dedicated to the fallen Latvian soldiers. About 3,000 soldiers are buried here. The Brothers' Cemetery was created during World War I after the first three Latvian Riflemen, who fell in Tīreļpurvs in the battle against the German Army, were buried here. Later Latvian soldiers who had died in other battles and wars would also be buried in the Brothers' Cemetery. The memorial is based on the design of the sculptor Kārlis Zāle, and is the first memorial ensemble in Europe with such landscape, architecture and sculptural value. It uses elements typical to the Latvian landscape, traditional farmsteads, Latvian folklore and history that praise the characteristics of soldiers and tell the story of the way of the soldier. The memorial was unveiled in 1936 and it has three parts: 'The Road of Though' which is a 250 m long alley, 'Terrace of Heroes' with the Altar of the Sacred Flame and ensemble the Sacred Oak Grove, and the burial ground with the Latvian wall and a memorial of a mother with her fallen sons.