"Iron Curtain"

IV Soviet occupation, Restored Independance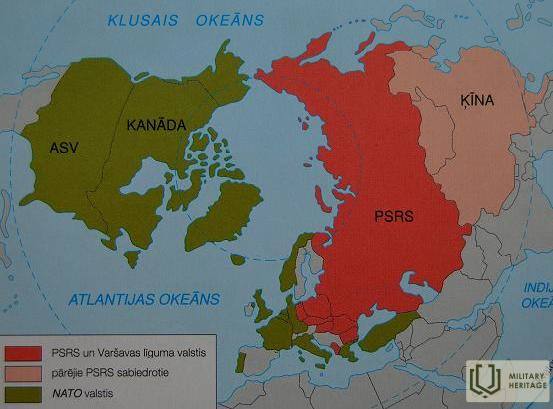 The term "Iron Curtain" was used as a dividing line between the USSR's sphere of influence and Western countries around the world. This opposition maintained a general sense of political destabilisation in the world until the late 1980s, when the USSR's economy failed to compete and collapsed.
After the Second World War, the Soviet Union pursued a determined policy to establish communist regimes in the European countries occupied by the Soviet armies. The countries of the Eastern Bloc in Europe were the People's Republic of Albania (until 1961), the People's Republic of Bulgaria, the Czechoslovak Socialist Republic, the People's Republic of Poland, the People's Republic of Romania, the People's Republic of Hungary and the German Democratic Republic. Although Yugoslavia was controlled by the Communists, they chose in 1948 to pursue a course independent of Stalin. Later, the Eastern Bloc also included a number of countries where communists had come to power - Cuba, Vietnam, Laos - as well as a number of Third World countries sympathetic to socialism, which together formed the global Soviet empire.
The countries of the Eastern Bloc were characterised by: Building Socialism. The political dependence of all countries on Moscow. Planned economies (5-year plans). Armaments. Terror against people distrustful of the regime. Censorship. Restrictions on civil rights and liberties. One-party regime. Economic stagnation. Membership of or cooperation with the Warsaw Pact Organisation, established on 14 May 1955 in opposition to NATO.
The Western bloc in Europe included the Federal Republic of Germany, Belgium, Denmark, France, Iceland, Italy, Luxembourg, the Netherlands, Norway, Portugal, Turkey and the United Kingdom. These countries were characterised by: capitalism. Armaments. Multi-party system. Freedoms of speech, press etc. Rapid economic development. Membership of or cooperation with NATO, which was established on 4 April 1949.
The Cold War lasted from 1947 until the collapse of the USSR in 1991.
More information sources
Iron Curtain - Wikipedia (wikipedia.org)
Related timeline
Related objects
Related stories