German/Nazi occupation
II WW2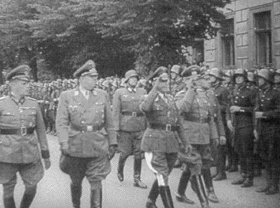 The period from 22 June 1941 to 9 May 1945 when the territory of Latvia was occupied by German forces. On 22 June 1941, Nazi German troops attacked the USSR without declaring war.
German occupation authorities initiated monetary reform and ordered the physical destruction of certain groups of the population. A German Civil Administration was established and, on 1 September 1941, it took the entire territory of Latvia under its control.
Two Reich Commissariats were established, Reichskommissariat Ukraine and Reichskommissariat Ostland. The latter was headquartered in Riga with four Commissariats-General under it, one for Estonia, Latvia, Lithuania and Belarus. The Head of the Commissariat-General for Latvia was Otto-Heinrich Drechsler.
Due to a lack of officials, the German Military Administration (Militärverwaltung) allowed the establishment of local government entities whose primary task was to provide German warring units with supplies and to establish order.
Related objects
Related stories