Memories of the help of Edgars Auniņš about the end of World War II Ezere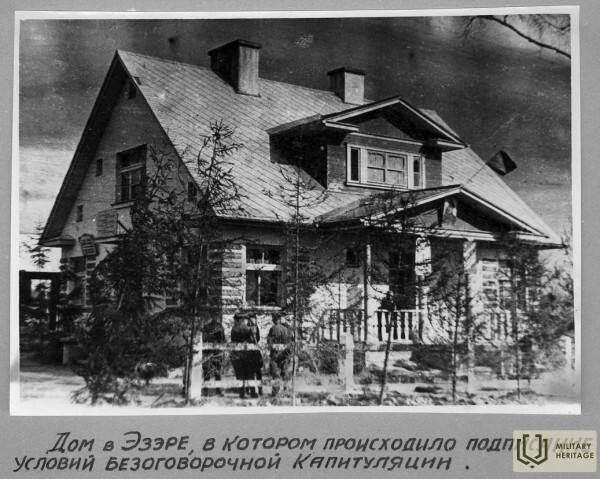 Excerpt from a memoir about the surrender of Kurzeme in May 1945, from the memoirs of Air Lance Corporal Edgars Aunins
"... 9. In the evening of May, we entered the yard of a large house, where there was already a semiconductor of Russian fronters. There was no alarm. We showed our empty pockets and offered to pour out the contents of our sailors' bags. That was enough. The lieutenant gave up. Among the Russian soldiers were mostly elderly men who watched and heard us with some surprise. Ivan Klementjev from Krasnava was with us. A better interpreter could not be wanted. We all spent the night together in the large family room. We exchanged canned food - we gave them German canned food, they gave us American canned food. Together we drank two glasses of vodka: one for all those who died in the war and the other for all the survivors of the war. Since then, I will not refuse to drink these two glasses for the rest of my life on May 8 or 9. And I want to emphasize: there was no hatred among the gray frontmen! "
Storyteller: Edgars Auniņš; Wrote down this story: Valdis Kuzmins
Used sources and references:
published in the May 2015 issue of Illustrated History
Related topics
Related objects
The Ezere Customs House is located in Ezere near the Saldus-Mažeikiai highway at the Latvian-Lithuanian border. The act of surrender of the German Army units 'Kurzeme' (Kurland) surrounded in the so-called 'Courland Pocket' was signed in this building on 8 May 1945. It is believed that World War II actually ended in Ezere. The customs house has an exhibit covering the events of the end of World War II and exhibits detailing the history of Ezere parish from ancient to modern days. In the morning of 7 May 1945, the commander of the Leningrad Front, Marshal L. Govorov, sent an ultimatum to the command of the army group 'Kurzeme' to lay down arms. The act of surrender was signed by the involved parties on May 8 and it detailed the procedure of surrender, weapons collection points, documents and information to be submitted and other practical measures.