About Finnish Jaegers in Latvia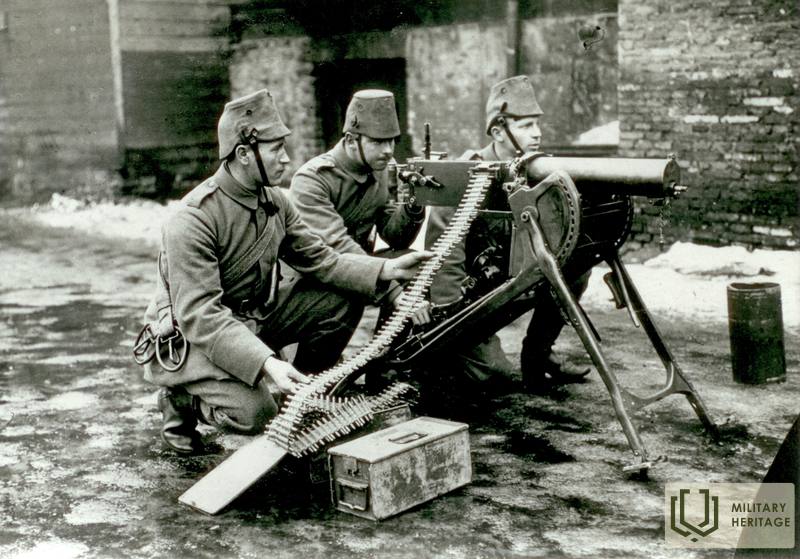 The history of Finnish Jaegers is interesting because it is extremely similar to the fate of Latvian soldiers in World War I and its great role in the formation of the nation state. For the Finns, World War I also provided an opportunity to lay the foundations for Finland's independence and the creation of its army. The source describes an event when a monument to Finnish Jaegers is unveiled in Latvia.
"On September 7 of this year, in Klapkalnciems by the sea, approx. 15 kilometers from Smārde station rested 5 riflemen of the 27th Finnish Jaeger Battalion: FV Heinonen, Viktor Kami, Emil Kantola, Eikars Minti and Konrad Persson, who fought in the Great World War as volunteers and fell in 1916. The Finnish government wanted to erect a monument to these fighters and thus honor those who hoped to win their independence. As the Latvian Defense Society had already built a monument to Finnish riflemen near Galiņi's house (in the Olaine area) in 1925, the Finnish Riflemen's Union, through the local Finnish embassy, asked the society to build a monument in Klapkalnciems to promote good Latvian-Latvian relations. The granite components of the monument were brought from Finland and had to be transported with great difficulty to the seaside of the village of Klapkalns, along the bad roads. After weeks of work and considerable expense, the monument was erected and its surroundings decorated. on the day of consecration, (September 7) the following went to Klapkalns: the Finnish ambassador to Latvia Hininen, the chief of the Finnish General Staff, Colonel V allenius, who is also the chairman of the Finnish Riflemen's Union; Head of the Information Department, Lieutenant Relanders, Military Representative, Col. Helsinki; Finnish merciful sisters and guards Munk and Rompanen; Colonel Hartmanis, Deputy Chief of Staff of our Army Commander, with Adjutant, Captain Kalniņš and members of the Board of the Latvian Defense Society. There were problems on the road with cars that broke down due to bad roads, could not cross broken bridges and ramps. Riders arrive at the party with a delay of 3 hours. Residents gathered in large numbers. Our and Finnish flags fly in high corners in the four corners of the monument; the poles are adorned with garlands and flowers made by diligent climbers, despite the bad, rainy weather. The celebrations were opened by Finnish Ambassador Hininen, in Finnish and German, explaining the significance of the monument and sincerely thanking the Board of the Latvian Defense Society for its efforts in erecting the monument. The messenger puts the gorgeous wreath with the Finnish national ribbon. Colonel Valenius then speaks and concludes his speech in Latvian, saying the following significant words: Citizens of Latvia, you have freed your land in fierce battles, just like we Finns, so that the monument reminds us of the value of our freedoms and our precious purchase. We will never give up our independence. "
It should be noted that the Chief of the General Staff of Finland, Colonel Vallenius and Lieutenant Colonel. Relanders both fought in the ranks of the Jaegers and straight in this battlefield and therefore delayed and remembered their battles. Far away, the Finnish guests sincerely thanked the owner of the local Saklaušku house, Alvīna Guņa, and her husband for the diligent care of the graveyard and continue to entrust them with these duties. The participants of the celebration returned to Riga through Tukums, because the road is better there. "
Used sources and references:
Newspaper "Guard". Unveiling of monuments to fallen Finnish riflemen in Klapkalns. 1929
Related timeline
Related topics
Related objects
Atrodas Tukuma novadā Slokas - Talsu šosejas tuvumā, starp Ragaciemu un Klapkalnciemu Rīgas jūras līča piekrastes kāpās.
Piemiņas zīme uzstādīta 1997. gadā vietā, kur 1.pasaules kara laikā atradās somu jēgeru pozīcijas. Somu jēgeri bija 1. pasaules kara laikā izveidota Vācijas armijas vienība, kas sastāvēja galvenokārt no Krievijas impērijas, Somijas teritorijas izbraukušiem nacionāli noskaņotiem somu brīvprātīgajiem. Vienība formēta slepenībā kā Vācijas armijas 27. Karaliskais prūšu rezerves bataljons. Vācijas armijā jēgeri bija tradicionālas un elitāras karaspēka vienības. Apmācībā uzsvaru lika uz augstu vienības mobilitāti, augstām kaujas spējām, izkoptām un daudzpusīgām karavīru iemaņām.
Karavīru mērķis bija cīnīties par Somijas neatkarību no Krievijas. Vienības sastāvā atradās gandrīz 2000 vīru, kuri tika iesaistīti karadarbībā Latvijas teritorijā. Somu jēgeriem bija lieli nopelni Somijas valsts un tās armijas izveidē.
Mūsdienās šajā vietā redzami izteiksmīgi ierakumi skaistā piejūras mežā ar skatu uz jūru. Līdzās ierakumiem atrodas piemiņas zīme. Tā veidota no granīta akmens, kas senāk izmantota Somijas Manerheima aizsarglīnijas nocietinājumos Ziemas kara laika (1939-1940).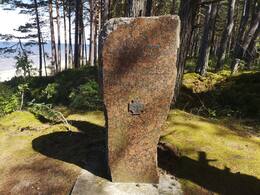 Atrodas Engures novadā, autoceļa A10 malā pie Smārdes kroga.
Piemiņas zīme uzstādīta vietā, kur laukā, iepretim Smārdes krogam, 1. pasaules kara laikā 1916. gadā notika Smārdes kauja. Kaujās Vācijas armijas sastāvā piedalījās somu jēgeru inženieru rota (~200 vīru). "Smārdes diena" ir kļuvusi par Somijas armijas militāro inženieru oficiālo svētku dienu, kas tiek atzīmēta joprojām.
Somu jēgeri bija Vācijas armijas vienība, kas izveidota 1. pasaules karā. Tā sastāvēja galvenokārt no Krievijas impērijas, Somijas teritorijas izbraukušiem nacionāli noskaņotiem somu brīvprātīgajiem. Smārdes kauja bija viena no somu jēgeru nozīmīgākajām uzbrukuma kaujām, kur tika izmantota tam laikam jauna taktika.
Mēnesi pēc šī notikuma, Krievijas armija uzbruka Vācijas armijai pie Smārdes. Latviešu kaujas vienības veica Smārdes apkārtnes izlūkošanu, pāri purvam izbūvēja apgādes ceļu "Latviešu ceļš" un piedalījās cīņās. Kaujās krita ap 300 latviešu cīnītāju. Līdzīgi kā somu jēgeri Vācijas armijā, tā latviešu strēlnieki Krievijas armijā bija savu nacionālo valstu un armiju pamatlicēji.
Atrodas Vecrīgā netālu no Brīvības pieminekļa un izvietots senā aizsardzības būvē.
Latvijas Kara muzejs ir viens no vecākajiem Latvijas muzejiem. Tā pirmsākumi meklējami 1. pasaules kara laikā. Muzeja krājums tika veidots galvenokārt no kaujas laukā iegūtām un karavīru personīgajām lietām. Kopš 1919. gada muzeja telpas atrodas Pulvertornī. Pēc Latvijas valsts izveides par muzeja galveno mērķi kļuva ekspozīcijas izveide par Latvijas militāro vēsturi un iedzīvotāju aktīvo lomu savas zemes aizsardzībā. 1937.gadā muzejs tika paplašināts ar piebūvi. Ēka tika celta speciāli tā vajadzībām — tehniski viens no modernākajiem tā laika muzejiem Eiropā.
Pulvertornis ir viens no bijušajiem Rīgas nocietinājumu torņiem. Tas pieminēts 1330. gadā kā Smilšu tornis. 1621.gadā, kad Rīgu aplenca Zviedrijas karaspēks, torni sagrāva. 1650. gadā tika uzbūvēts jauns tornis, šaujampulvera un ieroču glabāšanai. Pēc pilsētas nocietinājumu nojaukšanas Pulvertornis ir viena no vērtīgākajām liecībām par Rīgas aizsardzības sistēmu.
Muzejā var aplūkot 11 ekspozīcijas. Izstādīti dažādi ieroči, dokumenti, formas tērpi, apbalvojumi un citi ar karu vai karavīru ikdienu saistīti priekšmeti.