Particular remarks in the care of cyclists
The recommendations mentioned in the regulations for the training of cyclists are provided during the training of cyclists in the Latvian Army. The recommendations focus mainly on the health of the soldier.
Special remarks for cyclist health care:
At the end of the training period for young soldiers, the doctor must carry out a medical examination of the soldiers who cannot bear the long journey. If, according to the doctor's opinion, the soldiers are not suitable for cycling echelons and if they cannot be used for motorized echoes, they must be transferred to other units.
Proper health care increases the performance of cycling units
When making a move, order the necessary relief in the outfit to be given as early as possible at the beginning of the move.
Cyclists' clothing and harness must be adapted so that they do not interfere with the circulation of body blood.
More frequent cold washing before and after driving protects the feet and hips from abrasion (when walking in the warm season).
It is forbidden to drink alcohol before the march, during the march, as well as immediately after the march ends.
You don't have to start on an empty or full stomach.
Muscle cramps can be prevented by massage. Cramps in the arms and legs, if the cyclist does not have enough training, if the saddle of the bicycle is not fitted correctly, if the cyclist holds the handbrake for a long time or keeps the handlebars in the same place at all times, if the cyclist's clothing is tight and uncomfortable. Too tight pants or panties cause sharp pain in the knees and leg muscles.
If a cyclist exceeds his / her endurance limits, he / she will have a fast and uneven heartbeat, as well as difficulty breathing.
If a cyclist experiences general weakness with shivering, cold sweat, a pale face, difficulty breathing, a feeling of suffocation and a fast and uneven heartbeat - the cyclist should lie down, unbutton the suit and be given a small amount of coffee or tea; after a short rest, the lost forces will return to the cyclist.
In the case of sunstroke, the provisions of the Rules of Procedure of the Internal Service must be observed.
Particular attention should be paid to cyclists during breaks. You can only swim if the cyclist has cooled down sufficiently and his heart rate has returned to normal.
Used sources and references:
Cycling training regulations. Riga: Army Headquarters Training Division, 1940.
Related timeline
Related objects
The owners of the unique collection of ancient bicycles in Latvia are Guntis and Janis Seregins. Collection of bicycles dates back to the 1977. The collection consists of technically most interesting samples of bicycle development history found in Latvia. There is one of the first Latvian made highwheel bicycle produced in 1886, cycle "Coventry" produced in England with the first pneumatic tyres, as well as cycle "Safety" manufactured in the first bicycle factory of A. Leitners in Latvia in 1888. A peculiar sample of the collection is a wooden bicycle produced in a VEF workshop of sports airplanes. Karlis Irbitis, well known at that time Latvian aero-constructor, constructed it using materials of airplane building. Apart from bicycles there are many different things related to cycles, cycling, societies and bicycle production.

A collection of trademarks of the biggest East-European bicycle companies is displayed at the exposition.
New finds are still added to the collection of ancient bicycles.

We have about 5000 visitors every year.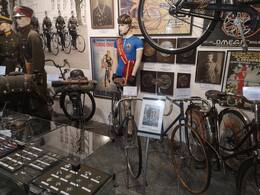 Atrodas Vecrīgā netālu no Brīvības pieminekļa un izvietots senā aizsardzības būvē.
Latvijas Kara muzejs ir viens no vecākajiem Latvijas muzejiem. Tā pirmsākumi meklējami 1. pasaules kara laikā. Muzeja krājums tika veidots galvenokārt no kaujas laukā iegūtām un karavīru personīgajām lietām. Kopš 1919. gada muzeja telpas atrodas Pulvertornī. Pēc Latvijas valsts izveides par muzeja galveno mērķi kļuva ekspozīcijas izveide par Latvijas militāro vēsturi un iedzīvotāju aktīvo lomu savas zemes aizsardzībā. 1937.gadā muzejs tika paplašināts ar piebūvi. Ēka tika celta speciāli tā vajadzībām — tehniski viens no modernākajiem tā laika muzejiem Eiropā.
Pulvertornis ir viens no bijušajiem Rīgas nocietinājumu torņiem. Tas pieminēts 1330. gadā kā Smilšu tornis. 1621.gadā, kad Rīgu aplenca Zviedrijas karaspēks, torni sagrāva. 1650. gadā tika uzbūvēts jauns tornis, šaujampulvera un ieroču glabāšanai. Pēc pilsētas nocietinājumu nojaukšanas Pulvertornis ir viena no vērtīgākajām liecībām par Rīgas aizsardzības sistēmu.
Muzejā var aplūkot 11 ekspozīcijas. Izstādīti dažādi ieroči, dokumenti, formas tērpi, apbalvojumi un citi ar karu vai karavīru ikdienu saistīti priekšmeti.